First, let's make sure you're looking at your projects. If you need to, click the 'Projects' tab to switch.
Creating Tasks
To add new tasks, you'll need to first open a project or create a new one (see Projects below). Then simply drag the + sign on to the canvas to create dependent tasks. You can also double click on the canvas to create tasks without dependencies.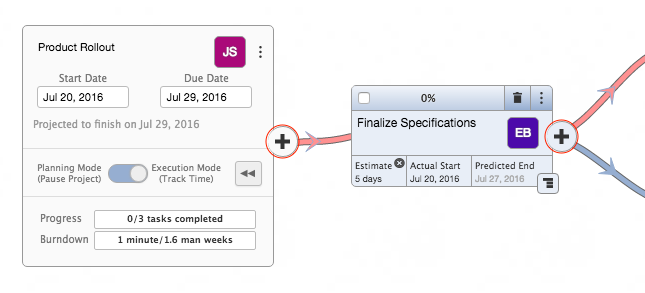 Projects
Projects are added to workspaces. Workspaces define teams that get access to projects and tasks within them. Click "+ Add Project" to create a new project within an open workspace. Select a project to open it in the task graph.
Quick Help & Tour
Hit 'Quick Help' at any time for more info on what's currently on the screen. To see a quick tour of DigiSpoke, click on the "Get a Tour" button. The button will be available as long as you haven't deleted your Personal Workspace and Sample Project.