Workflow templates allow you to save the location, connections and estimates of all tasks on a task graph for reuse in other projects.
To save workflow templates and create projects from templates, you will need to start a free trial or subscribe to a paid plan. For more details see DigiSpoke Premium.
Once subscribed, to save a new workflow template.
Make sure that you are in the Projects section of the application. You can switch to the Projects section by clicking "Projects" at the top of the application, next to the DigiSpoke logo
Choose a project that you'd like to save as a template in the navigation pane (located in the lower-left). Note: you may need to click on a workspace to access the project that you're looking for
Hover your mouse over the project
Click on the three vertical dots that appear
Select "Save as Template"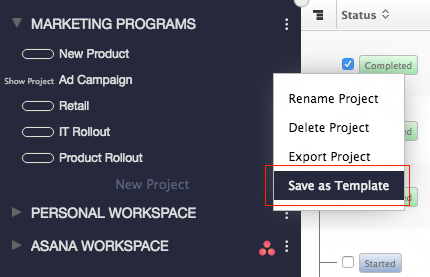 Choose a name for your new template and click "Save"
You may create a new project from a workflow template in any workspace that you have the permission to create new projects. To create a new project from a workflow template.
Click on the three vertical dots to the right of the workspace name
Select "New Project from Template"
Choose a template and click "Create Project"
The templates window will close and you'll be able to rename the new project