How does DigiSpoke integrate with Asana? DigiSpoke enables you to turn your Asana task lists into sophisticated, dependency driven projects. To achieve this, DigiSpoke will actively synchronize your Asana tasks, projects, workspaces, teams and conversations. Your team can continue to use Asana as before or they may choose to access DigiSpoke and take advantage of the advanced dependency management, time tracking and progress prediction features.
If you are a member of an Asana integrated workspace in DigiSpoke, you'll need to link your Asana account to continue.
To link your Asana account
Click on your name in the upper right hand corner of the screen and select 'Account Settings'. The account settings window will appear.
Click the 'Asana Sign In' option on the left side of the window
Click the 'Sign In with Asana' button
You will be taken to Asana and may be asked to approve the connection with DigiSpoke
To import an Asana workspace into DigiSpoke
Follow the steps above to link your Asana account
Make sure that you are in the Projects section of the application. You can switch to the Projects section by clicking "Projects" at the top of the application, next to the DigiSpoke logo
Click the "Import" button with the Asana logo in the lower-left corner of DigiSpoke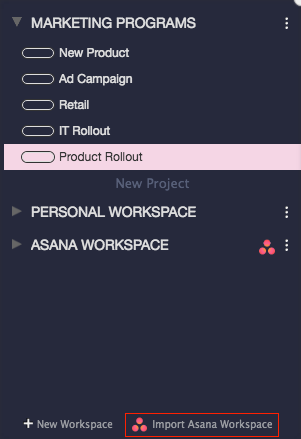 DigiSpoke will show a list of workspaces accessible to you within Asana
Click the "Import" button next to the workspace that you wish to import
Asana imported workspaces are marked with an Asana icon.
Important: Asana workspaces with a large number of projects may take several minutes to import. Once imported, DigiSpoke will synchronize your data with Asana as you use the application.
Synching with Asana. Syncing with Asana requires that you import at least one Asana workspace into DigiSpoke. Asana updates will sync to DigiSpoke when
You open an Asana integrated project
Get details for a specific task in the currently open project
Highlight an Asana task that is pinned on the Tasks screen
You may choose to sync updates from Asana explicitly by clicking on the 'Sync' button on the project node of an Asana integrated workspace
DigiSpoke updates Asana anytime you update an Asana integrated task, project, or workspace in DigiSpoke. To keep Asana task Due Dates updated with date changes and predictions in DigiSpoke, please ensure the "Keep Asana Due Dates Synched" checkbox is checked.
Managing Team Members in Asana Linked Workspaces: Workspace membership is managed in the Asana application and updates are synched back to DigiSpoke. If an Asana workspace contains more users than your current DigiSpoke subscription allows, you may choose to upgrade your plan and enable more users in DigiSpoke. You may enable as many users as the workspace owner's current subscription plan allows. For more info on roles see Owners, Managers and Contributors.
Sharing DigiSpoke projects with your Asana team. When you import an Asana workspace, the members of that workspace are imported as well. This enables you to use DigiSpoke to seamlessly assign, manage and collaborate on Asana tasks. Members of your team can access Asana integrated workspaces by creating an account in DigiSpoke with the email address they use to sign in to Asana. Once in DigiSpoke, they will have Manager access to all projects within the workspace. For more details, see Workspace Owners, Managers, and Contributors.
Automated Asana Due Dates. Asana task due dates are set automatically based on the predicted end date for the associated task in DigiSpoke. You may override the prediction by setting a Planned End Date for a yet to be completed task in DigiSpoke. This will update the Due Date for the corresponding task in Asana.
Other topics: