To assign tasks and collaborate with your team, you will need to start a free trial or subscribe to a paid plan. For more details see DigiSpoke Premium.
Important: If you are a Manager of a workspace, you may add team members and assign roles. However, only the workspace Owner is able to increase or decrease the total number of enabled team members allowed in their workspace by switching plans. For more details, see Workspace Owners, Managers, and Contributors.
To manage team members in a workspace:
Ensure that you're on the 'Projects' screen by selecting 'Projects' in top left corner.
Click on the three vertical dots located to the right of any workspace that you're planning to add members to.
Select 'Workspace Members...' from the drop-down menu.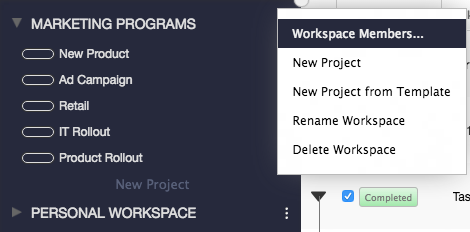 Add a user by entering their email address, selecting a role (more on roles), and clicking on the 'Invite User' button. Each user you invite will receive a notification email.
Managing Team Members in Asana Linked Workspaces: Workspace membership is managed in Asana. If an Asana workspace contains more users than your current DigiSpoke subscription allows, you may choose to upgrade your plan and enable more users in DigiSpoke. You may enable as many users as the workspace owner's current subscription plan allows. For more info on roles see Owners, Managers and Contributors.
Deleting Users: In order to maintain proper information on all projects and tasks, it's not necessary to delete users. Instead you may choose to disable a user by changing their role to 'Disabled'. If you've reached the user threshold for your premium plan, you may choose to upgrade your plan or disable some users to unlock the ability to add more users.
Important: A subscription will enable you to add members to workspaces for which you are the "Owner". This means that you have created that workspace. To check if you're the owner
Click on the three vertical dots next to a workspace name
Choose the 'Workspace Members...' option.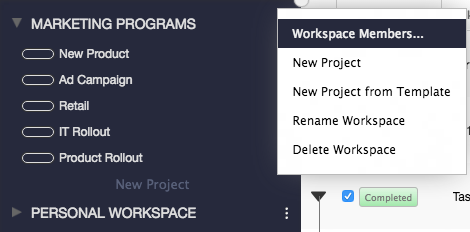 If you are a Owner or Manager of the workspace, The Workspace Member window will list all members and associated roles. If you're a Manager of a workspace and need to add more team members than currently allowed, please ask the Owner to upgrade their subscription plan.